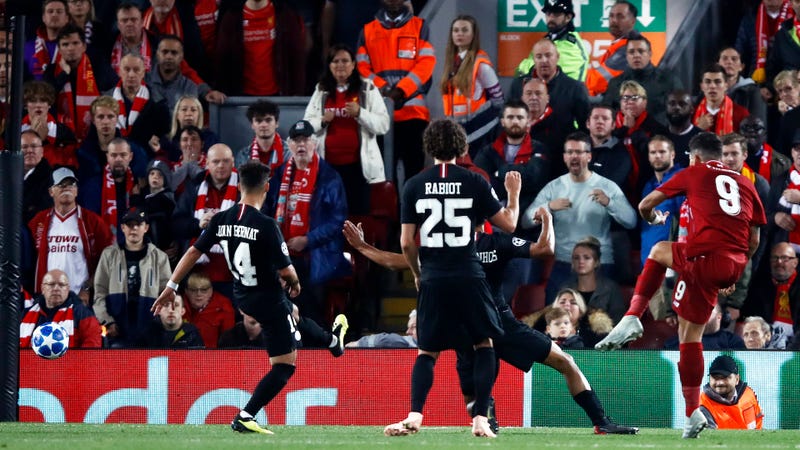 The first classic match of the new Champions League season came on the first day of the competition. Liverpool-PSG had everything: superstar forwards on both sides of the ball, anarchic attacks flying up and down the pitch, several goals, a wounded dick, and, maybe most importantly, a heart-stopping climax that handed PSG—the most hatable team in Europe—an L in delightfully excruciating fashion.
A little over 30 minutes into what had been a pretty evenly matched first half, Liverpool somehow found themselves up 2-0. Daniel Sturridge had nodded in an Andrew Robertson cross to give the Pool Boys the lead a half an hour in, and James Milner doubled the advantage from the penalty spot a few minutes later. It looked like the two goals had PSG on the ropes, but Belgian full back Thomas Meunier pounced on a lucky deflection and popped the ball into Liverpool's goal to get the visitors back into the match.
Liverpool probably should've regained their two-goal lead from one of the many chances they created in the second half, and it even looked like they'd done just that when Mohamed Salah charged into a goalmouth scrum and flicked the ball into the net. However, that would-be goal was soon disallowed once it became clear the ref had called a foul when Sturridge inadvertently kicked PSG keeper Alphonse Aréola in the dick and balls seconds before Salah's shot:
Salah would later prove the culprit in PSG's equalizer, when a lazy pass of his badly missed its target and sparked a counterattack from which Kylian Mbappé scored. It looked like Liverpool had robbed themselves of the three points their performance deserved and stolen from us the schadenfreude we PSG-haters subsist on, until substitute Roberto Firmino saved the day:
A great goal to cap a great match with the greatest thing of all, which is yet another opportunity to revel in PSG's woes.